2-IN-1 SNAP RING PLIERS SET 
Effortlessly Install or remove various sizes of circlips from equipment
Easy to operate and provide you with a comfortable working experience.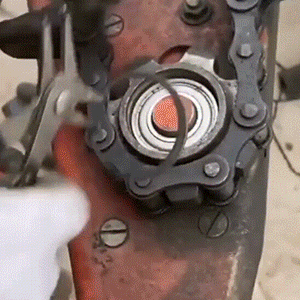 [Snap Retaining Ring Kit]
Set Includes 15 Most-used Sizes (Metric): 8mm, 9mm, 10mm, 11mm, 12mm, 13mm, 14mm, 15mm, 16mm, 17mm,18mm, 19mm,20mm, 22mm, 25mm | 
0.31in, 0.35in, 0.39in, 0.43in, 0.47in, 0.51in, 0.55in, 0.59in, 0.63in, 0.67in, 0.71in, 0.75in, 0.79in, 0.87in, 0.98in
Package Quantity: 150-Piece.
[2-in-1 Snap Ring Pliers]
On external pliers, the head opens when the handle is squeezed and the circlip is pushed out. 
These pliers are used to mount circlips on shafts and guide rods. On internal pliers, the head closes when the handle is squeezed and the circlips are pulled in. 
These pliers are used to install circlips inside bores.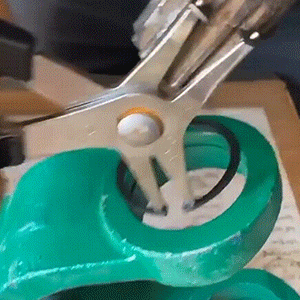 [Premium Construction]
Selected alloy steel, high strength, high toughness, wear resistance, corrosion resistance, low temperature, and high-temperature resistance, etc. 
Non-slip handles high-quality springs, stable opening, and closing, perfect control of the whole.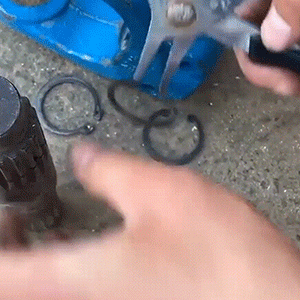 [Reasonable Design]
Lightweight and portable, 90-degree folding corners, refuse to break, are easy to manipulate, and have a longer service life. 
Owning a good circlip plier can make your work easier and improve efficiency.
[Widely Used]
Circlip pliers are used to install or remove circlips from equipment, used in equipment, machinery industry, industrial assembly, household appliances, vehicles,
and other DIY maintenance, such as bicycles, agricultural machinery, locks, etc.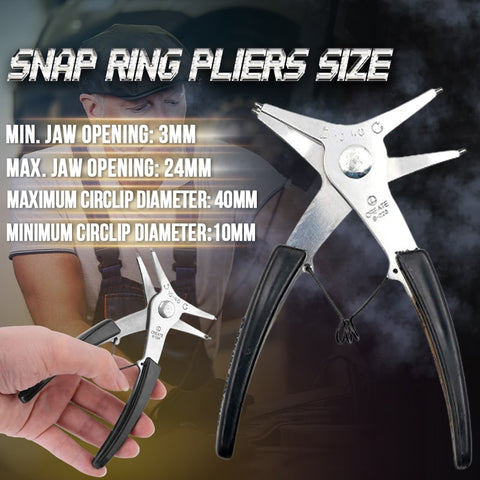 SPECIFICATIONS
Maximum circlip diameter: 40mm | 1.57 in
Minimum circlip diameter:8mm | 0.31 in
Size(approx.): 145 x 80mm / 5.7 x 3.15″
Weight: about 115g
Package Includes: 1 * 2-in-1 Snap Ring Pliers
Snap Retaining Ring Kit:
Package Quantity: 200-Piece
Material: Metal
Package Include
1 * Snap Retaining Ring Kit